Upgrade Your Business with Geo POS – The Ultimate Solution for Effortless Point of Sale, Efficient Billing, and Streamlined Stock Management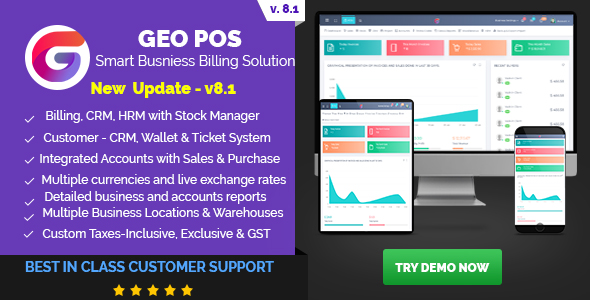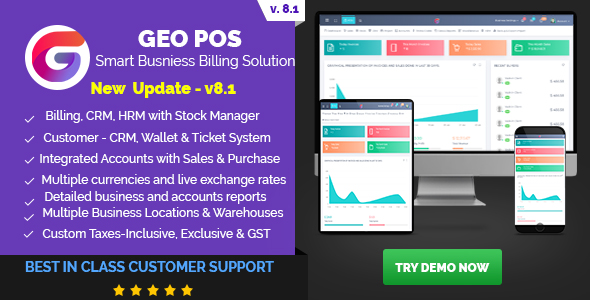 #Geo #POS #Point #Sale #Billing #Stock #Manager #Application
Rose Business Suite, a Laravel-based Point of Sale (POS) application, offers a comprehensive solution for businesses with features such as CRM, Accounts, HRM, and Stock Manager.
The latest update, version 8.1 build 186, was automatically installed via the web wizard on April 14, 2023.
Here are the changes made in the previous update, version 8.0 build 180:
– Mega Framework Update
– Core Files Updated (merged build 153 and 160)
– Third-party Library Upgrades for PDF, Email, POS, and Payment
– Minor Issues Fixed
– System Security Updated
Rose Business Suite provides a demo for users to explore before making a purchase. It includes modules for Point of Sale, Invoicing, Quotations, Purchase Orders, Inventory Management, Customer Management, Supplier Management, Project Management, Accounts, Data & Reports, REST API, CRON JOBS, and Employee Management with different user roles. The application supports all types of tax, including Exclusive, Inclusive, and GST.
Future updates for Rose Business Suite are free and based on user suggestions. The application has been continuously updated with over 100 updates already released.
The application supports multiple languages, and tax options include Inclusive, Exclusive, and GST. It also offers multiple product units and a Subscriptions/Service module. Support and assistance are provided through the helpdesk.
Rose Business Suite comes with a ready-to-use REST API driver, allowing it to be easily integrated with other applications. The application also includes features like Point of Sale, Online Payment Support, POS Registers for each employee, QR Code, Due Invoices, Subscriptions, and multiple store management.
Other features of the application include Invoicing, Purchase Orders, Inventory Management, Customer Management, Supplier Management, Accounts, Data & Reports, Project Management, HRM, Twilio and SMS Service Integration, reCaptcha, Bit.ly Short invoice URL in SMS, and integration with various payment gateways.
The application offers two templates for invoice printing, and it supports thermal printers. It also provides a ticket-based support system and includes features like employee payroll, attendance, holidays, salary, and project management.
Installation of the application is simple, and no programming knowledge is required. It runs on PHP 7.3 or later with MySQL. The application is available in multiple languages and supports RTL (Right to Left) layouts. It also supports various payment gateways such as Stripe, Authorize.Net, PayUMoney, 2Checkout, RazorPay, Pin Payments, PayPal, and SecurePay.
The recent update, version 6.5 build 145, included improvements in the message interface, invoice print interface, dev panel, purchase order average price, edit invoice, new quote, add products, menu interface, system security, and minor issues.
Please refer to the provided demo details to access the application's login section for employees and customers.
Rose Business Suite is a robust POS solution that is customizable and user-friendly, making it an ideal choice for businesses of all sizes.